Roofers in Weymouth, Dorset. Roof repairs, new roof.
Services We're Able To Provide
Here's A List Of Some Of The Services Roofing Company Weymouth Provide
New Roof Construction Both Flat & Pitched Roofs

Ridge tile replacement

Roof Repairs

Roof Reconstruction

Lead Work & Flashing

Roof Extensions

Tile & Slate Roof Repairs

Everyday & Emergency Leak Repairs

Cleaning For Roofs

Loft Insulation

New felt fitted
Dry Ridge and Dry Hip Systems.

Chimney Removal, Re-pointing, & Repairs

Installation Of Windows

Guttering Repairs & Replacements

Soffit, Cladding, Plus Fascia Repairs & Replacements

Flexible Free No Obligation Quotes From Professionals

Loft & Garage Conversions

Free Quotations Carried Out By Professionals

& Much More…
We have a team of roofers and builder so can often offer roofing services and home improvement services not listed. Please enquire. Regularly we assist with repairs to lofts, repointing chimneys, tile repairs/replacements and even cleaning the moss away.
The roof of your property is made up of many components, damage or wear and tear to any and all parts can contribute to problems with the integrity of your roof structure and its effectiveness.
Common issues we are contacted about are:
Slipped tiles. For various reasons, high winds, structure changes, your roof tiles can move slightly. In some circumstances it is possible to push a tile back into place without the need for scaffolding. Unfortunately it is usually the case that access is needed via scaffold or a scaffolding tower to reach the area that requires attention. Health and safety requirements can add red tape to a repair, and of course we do need to conducer the safety of the professionals working at height on your roof. On rare occasions it is possible to go into your loft and push the roof tile back into place.
Damaged/deteriorated felt. Your roofing membrane adds a layer of protection under your roof tiles. If damaged it reduces your roofs integrity and means you are more liable to leaks. The photograph below shows a roof where the membrane has failed and from the loft you can see the gaps where water could pass through in heavy rain.
Leaks around a chimney or on a join between two roof elements. Joins and chimney areas are prone to leaks. This can be for several reasons but can often be because the lead flashing has failed.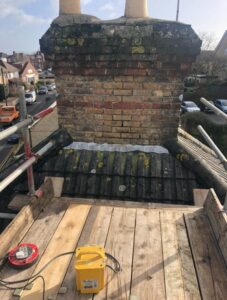 If you can't see the service you're after here, don't fret! Give us a call and explain what problems you're facing and one of the team will be able to work out exactly what you need. As well as being able to organise an appointment for your free quotation.
Locktight Building & Roofing Weymouth
Roofs can be tricky things and we think it's important to act swiftly and professionally when repairing any customers' roof no matter the problem.
Whether you're having trouble with your guttering, ariels, or your whole roof, we've got the service to fix your issues. Not to mention our availability.
Due to the size and quality of our team, we're able to provide services and achieve a quick, comprehensively fixed solution to most roofing issues. We are fully experienced. 
We provide top quality finishes to local Weymouth homes and businesses for competitive rates. Only using the highest quality materials and letting the customer lead the way. We are customer-focused and always glad to help no matter the job or situation. Commercial or residential, we have you covered and you will not be disappointed. 
So when you're in the market for any of the services listed above don't hesitate to give us a call and organise your free, no obligation quote carried out by one of our experienced team members today
We provide roofing services including roof repairs, cleaning, moss removal, tiles, ridge tiles, flashing, cladding, extensions, slate roof repairs, guttering, battens, membranes, fascias and ponding repair.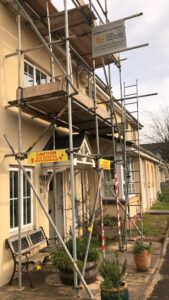 Other roofing sites
FY-Fylde Roofing
Taunton Roofing
Exeter Roofers
Torbay Roof Repair
If you have a question, don't hesitate to get in touch.